About Us
The Republican Party of Union Township is an organization that believes in the core principles of life, liberty, and the pursuit of happiness.
Our purpose is to assist and / or render support in securing the most capable, honest, and forward-looking administration of government at all levels–national, state, county, township, village, and city, in accordance with the principles of the Republican Party as enunciated by the State, County and National Committees of our Party.
How To Join
It's easy to join the Union Township Republican Central Committee! The first step to joining our team is to contact us. Next, attend any of our Union Township Republican Central Committee meetings and meet us! Our meeting calendar link is located here. Then, you will need to complete a simple questionnaire, return to the next meeting, and finally, attend the Clermont County Republican Central Committee meeting to make it official!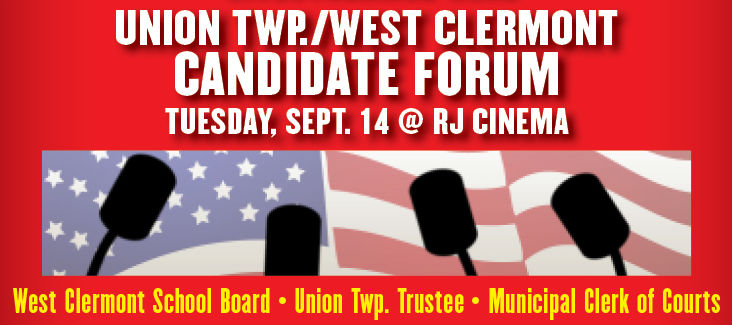 On Tuesday, September 14, we are having a candidate forum for West Clermont School Board, Union Township Trustee and Municipal Clerk of Courts.

It begins at 7 PM at RJ Cinema, Distillery & Taproom, Jungle Jim's at 4450 Eastgate Blvd, Cincinnati, OH 45245.

The Forum will be moderated by Chip Hart (Retired owner of Hart Productions and host of "The Big Outdoors" on 700 WLW).
The format will allow for opening and closing statements. Questions will come from the audience. Each candidate will get to answer each question in a rotating format. There will be no rebuttals to answers.

There will also be a straw poll that is $1 a vote with a $20 ticket limit per person.
As a candidate, you are invited to participate. Please let me know if you will participate. All candidates who will appear on the ballot will be invited. The event will be recorded and live streamed.
The event is currently listed on the Facebook here: https://fb.me/e/I5CPbQTw

This event is sponsored by the Union Township Republican Central Committee.